Get a Free Estimate
Complete the form below including details on your tree service and we'll be in contact soon!
Stump Grinding Services in the Kansas City Area
ISA Certified Arborists. Tree & Stump Removal. Free Consultations.
Let us help you restore your property to its full glory by removing that unsightly stump on your property. Our worry-free process ensures safe, professional tree stump removal. We use all the proper equipment to complete the job in a timely manner and provide professional, clean, and reliable service. Don't let the eyesore of a tree stump decrease the value of your home.
Stumps greatly detract from the visual appearance of your landscape and can lower your property value. In addition, tree stumps can attract pests, be an eyesore, and make landscaping difficult. Go Green Tree and Stump Removal provides quality stump grinding and removal services. Eliminate a possible hazard that could affect the safety of those who enter your home or commercial property.
Our arborist is certified by the International Society of Arboriculture (ISA), the Tree Care Industry Association (TCIA) and Certified Treecare Safety Professional (CTSP) program. Our tree care crew also handles all mess clean-up and can even plant a new tree for you! Contact us today to get your FREE tree stump removal or stump grinding estimate.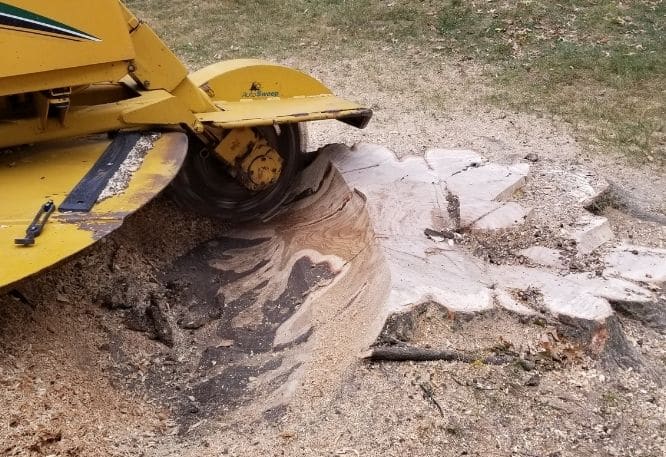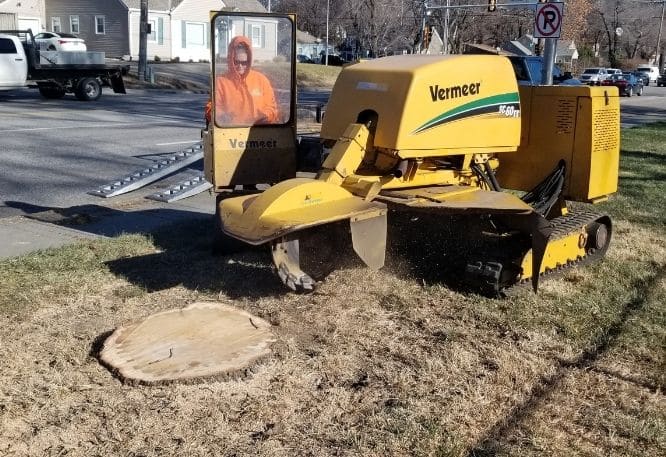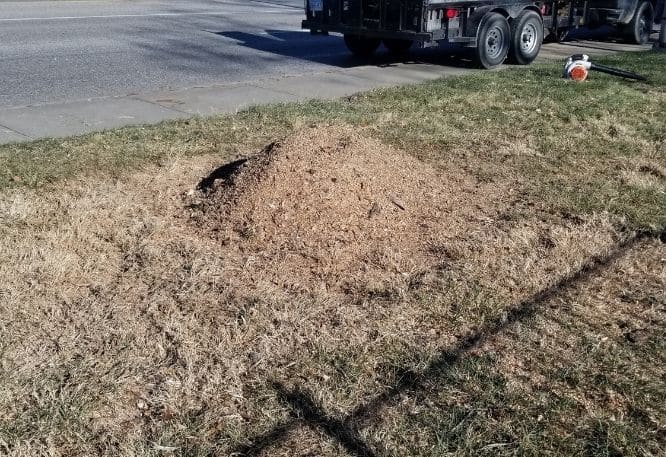 Dump Your Ugly Stump With Help From Certified Tree Grinders
Homeowners and business owners know that a beautiful lawn increases property values, brings joy, and boosts curb appeal. A stump is not just unsightly, it can also be a dangerous trip hazard. The expertise of Go Green Tree & Stump Removal's team of tree care professional grinders can get rid of your stump with little headache or hassle for you. We offer tree and stump removal, stump grinding, clean up, and other tree-related services. Get the stump grinding you need in Lee's Summit and surrounding Kansas City areas.
High Quality Stump Removal Services for Residential and Commercial Properties
After a tree is removed, don't just stop there. Removing a stump offers both cosmetic and practical purposes. No matter the location - whether a yard or outside an office building - stumps are unsightly and can cause personal damage. Take the liability out of the equation and let our trained professionals handle the stump removal today! Plus, unattended stumps become home to insects, termites, parasites and other unwanted friends.
Stump grinding is not a Do It Yourself project. The machinery and equipment to safely complete a stump removal service can weigh anywhere from 1,800 to 6,000 pounds. Plus, if you do not have the proper experience, there is a higher probability of injury. Our cost-effective prices allow you the peace of mind that your ugly stump will be taken care of safely.
Have a stump that needs to be removed? Call the experts at Go Green Tree and Stump Removal for a free estimate. We'll come out and evaluate your stump, then offer the best tree stump grinding service in the Kansas City area. 
FAQs
Why should I remove my tree stump?
If your tree is gone, the tree stump truly serves no purpose for you—but it does for other creatures. Termites, ants, bees, mice, and other bugs and rodents have been known to make their homes in old stumps, even if they are dry and dead. Stumps are also breeding grounds for fungi and diseases that can take over your entire yard.
Of course, stumps are also unsightly. They can break up the flow of your yard, especially if the stump is in a place where you have only grass. Tree and stump removal could increase the value of your property. Even better, removing stumps can make your yard safer—if someone gets hurt tripping over your stump, you may be liable for their injuries. Stumps show on the surface, but the roots of the tree are also hidden under the ground and can cause other problems, such as structural damage to your home or pathways or construction challenges.
What's the cost of a stump removal?
Go Green Tree & Stump Removal is devoted to fair pricing on all of our tree services. Whether we are performing tree trimming or stump grinding, we care about providing you the best service for a reasonable price.
Stump removal is when the entire stump and roots are removed from your yard. This could require excavation work if the tree roots are particularly deep. Stump grinding is when we grind down a stump so that you can no longer see it. The roots remain under the surface of your yard.
The benefit of stump removal is that the entire tree is gone and you can go on to landscape work without worry, but this is a more extensive process and can damage landscaping temporarily near the stump as digging is required. Stump grinding is a neater process that does not require excavation; however, you may have to deal with root problems and could run into landscaping challenges in the future due to the roots remaining in the ground.
Stump removal pricing costs will vary depending on a few factors:
The size of your tree or the diameter of the stump
The species of tree you have, as some trees have deeper roots than others—oaks, maples, poplars, and other hardwood trees are more difficult to remove, require more manpower, and involve heavier equipment
Whether we are removing a tree and stump at the same time
Whether we are performing stump removal or just stump grinding
The location of the stump (i.e. on a steep hill, surrounded by other trees, etc.)
If you would like an accurate cost estimate for your stump removal or tree removal needs, call the professionals at Go Green Tree & Stump Removal in Kansas City today. We offer free estimates, so you don't have to wonder how much it will cost to remove your tree stump.
Should I try DIY tree or stump removal?
Tree and stump removal are dangerous tasks that require heavy equipment. If you are not a professional, you could injure yourself or someone you love attempting to remove a tree or stump on your property. It's usually a good idea to hire professionals who offer stump removal services. That way, you get rid of that ugly stump without hurting yourself. Plus, we clean up the mess, so you won't even have to deal with the hassle of debris removal.