Get Rid of Unwanted Trees With Professional Tree Removal Services
Tree removal service could be needed for a variety of reasons. Your tree could have been damaged by one of Kansas City's storms; a tree can become old or die due to disease or infestation; you simply don't like the look of a tree or worry about it becoming a hazard to your home, family, or visitors to your property.
No matter the reason you have come to need professional tree cutting services, Go Green Tree & Stump removal is here to help. We are professional tree and stump removal experts, so we can safely remove a tree from your property in a timely manner.
Our professional arborists will safely and efficiently use the proper tools and equipment needed to remove and haul away trees of all shapes, sizes, and conditions.
Attempting to remove a damaged or unsightly yourself can be dangerous. Trees are heavy and unwieldy. Even attempting to remove small trees without the proper training and resources can lead to property damage.
Affordable Tree Removal Service You Can Count On
Not only do you want to hire the best tree-cutting professionals in the Kansas City area, but you also want them to be affordable. We offer reasonable prices because everyone should be able to afford tree removal when a tree has become a danger or needs to be removed for any reason.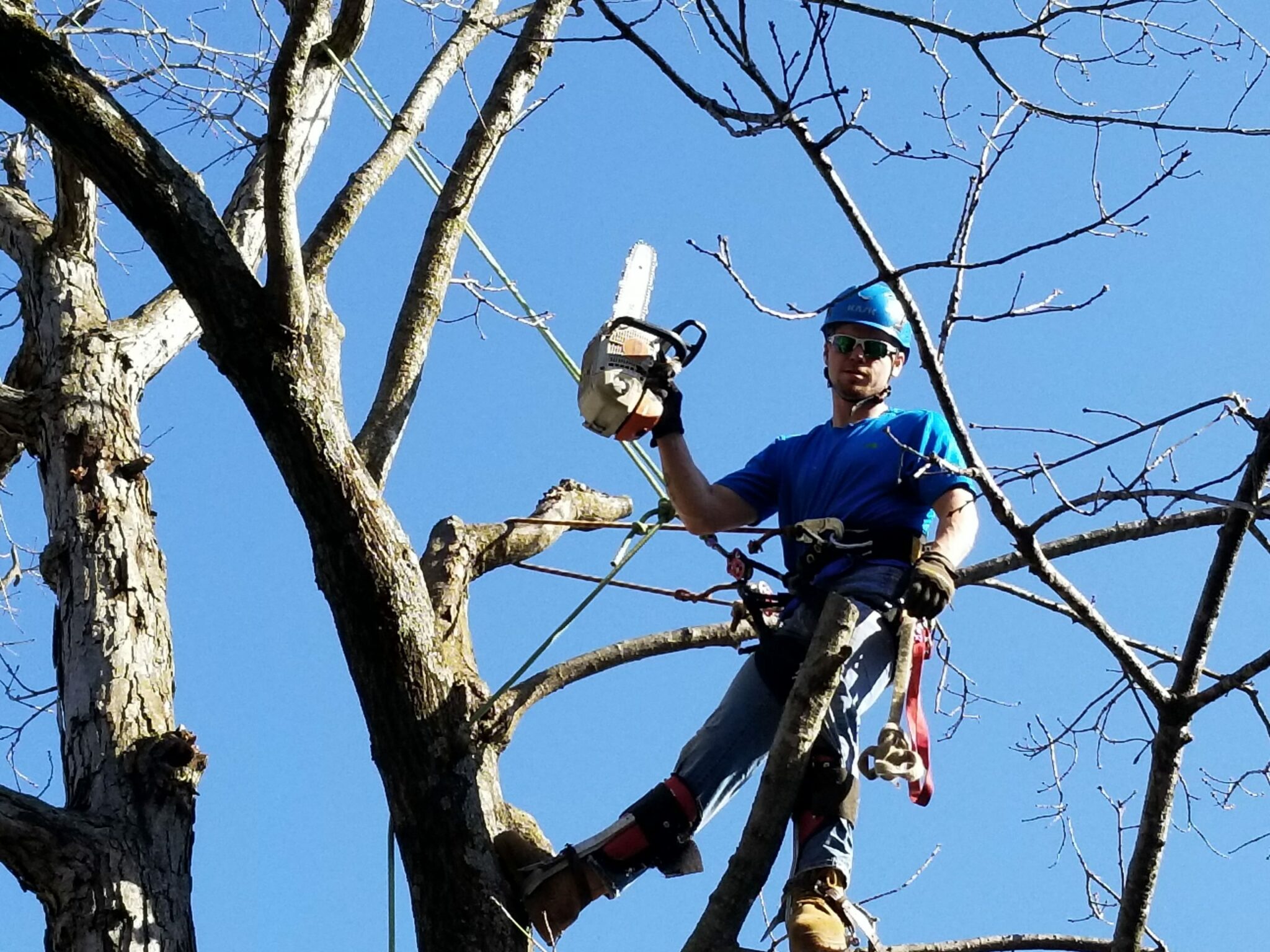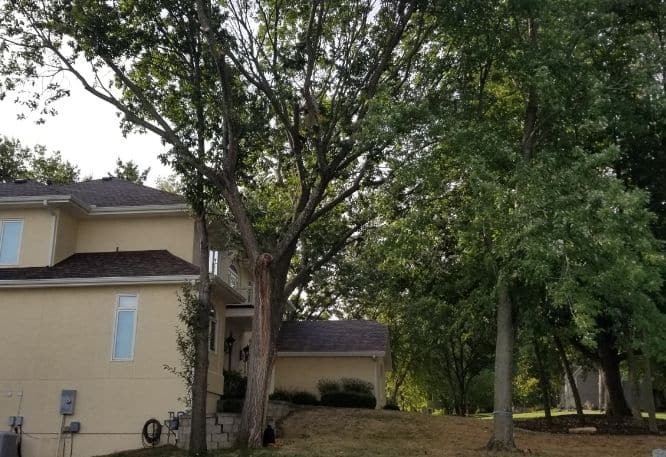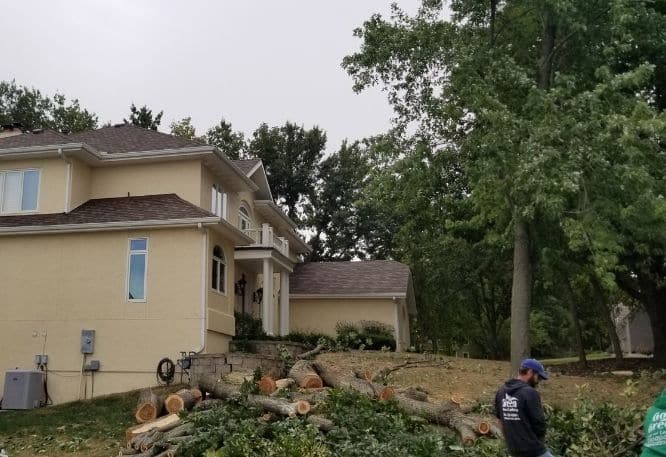 Kansas City Tree Removal Experts
Tree removal does not have to be a huge hassle when you call the professional, certified arborists at Go Green Tree & Stump Removal. We can enhance your curb appeal, remove storm damage debris, and other tree services to area residents on both the Missouri and Kansas side of the metro area. To assist in the wellness of your tree, we provide services such as tree healthcare, tree trimming and pruning, and tree fertilization. We also offer stump removal and stump grinding, all at a competitive and affordable price.
Get a Free Estimate
Complete the form below including details on your tree service and we'll be in contact soon!
Do Not Try This at Home - Hire Professional Tree Experts
Trees can seem harmless, but they can become dangerous at the snap of a branch. Fallen trees can cause injury to you and those around you. Attempting to cut a tree without training, experience, and the proper tools required could cause branches or the trunk to fall and hurt someone or damage your house and property. 
The main reason not to attempt tree trimming or tree removal on your own is due to the danger this process poses to your safety. However, you could also damage your property or home, or make a huge mess.
The tree removal experts at Go Green Tree and Stump Removal are properly trained and fully insured to make sure your property is protected.
Why Should Kansas City Residents Choose Go Green for Tree Removal?
We know you have options when selecting a tree removal company in Kansas City, but we want to be the company you choose. We make sure to provide the following:
We provide timely tree service from professional arborists.
We have certified arborists who always put safety first.
Customer satisfaction is important to us, which is why we respond to all estimates in a timely matter. We understand that trees don't fall at convenient times.
We can remove different types of trees and make sure our tree removal cost is fair.
We are on a mission to do great work and be there for our customers when they need us.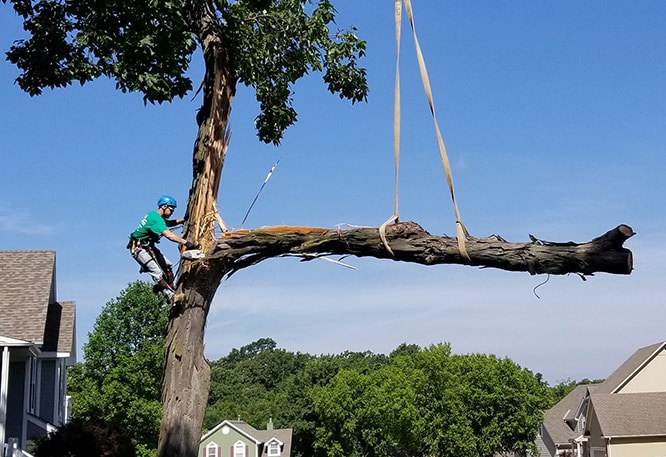 Get Your Free Estimate on Tree Removal Service in Kansas City
Kansas City area residents in both states can take advantage of the quality, professionalism, fair pricing, and customer service that Go Green Tree & Stump Removal offers. We want you to love your trees and be safe under their comforting embrace, and it only takes a quick call to schedule a tree pruning service now.
FAQs
Why should I get my tree removed?
Trees in Kansas City can be beautiful, but they require maintenance to ensure they remain an addition to your property, not a drawback. There are many different kinds of trees that could offer you shade, fruit, blossoms, or beauty, but there are several variables that take a tree from wondrous to dreadful.
Unfortunately, trees can become overgrown, diseased, or fall down due to a storm. Regular tree trimming services could help you keep a tree longer, but if you are ready to remove a tree for any reason, the professional arborists at Go Green Tree & Stump Removal can safely remove it from your property. In addition to cutting down trees safely, we can also handle stump removal or stump grinding.
You should consider contacting us when your tree is experiencing any of the following symptoms:
dead or dying
attracting insects
dropping debris
fallen due to storm damage
unsightly or blocking views
disrupting property or construction
overgrown
becoming hazardous or dangerous
becoming physically unappealing
roots are damaging home or property
What does a tree removal process involve?
After one of our experienced team members has come to your house and property and accessed your tree and given an estimate, Go Green Tree and Stump Removal will schedule a time to complete the service. Based on the location and status of the tree, our trained professionals will use a series of tools to cut the tree in sections from the top to the bottom. If the tree is larger, a crane may be used to remove the tree, to assist in minimizing the risk of damage to your home or property. Other equipment used may include chippers, logging trucks, and aerial lift trucks. All industry standards and guidelines are utilized during every service for the safety of both you and our staff. Tree removal is not a DIY project you should attempt to complete on your own without experience. Our expertly-trained staff has all the tools and experience to safely and efficiently complete your tree removal service.