Get a Free Estimate
Complete the form below including details on your tree service and we'll be in contact soon!
Recognize When You're Ready for a Tree Risk Assessment
Preventive tree care can save thousands of dollars in potential damage or expensive removal services. Trees offer many benefits to homeowners and business owners, but they can be hazardous if they have defects, internal decay, pests, or diseases. Sometimes, a tree can be dangerous because of the direction it is growing, soil erosion, or other site factors that impact the tree's stability. 
When a professional tree risk assessment is performed by Go Green Tree & Stump Removal, we perform a visual inspection of your tree to look for any structural defects or other issues that could cause future damage. If you are in need of a tree risk assessment in the Kansas City area, our certified arborist will work with you to identify any existing damage or potential risk and design an appropriate tree management plan.
Once a plan has been established, Go Green Tree and Stump can provide you with recommendations for the best next steps in a timely manner. Services like routine tree trimming and pruning or tree removal may be suggested to eliminate the tree damage risk. The key is to move swiftly and take action before a tree risk results in tree or personal damage.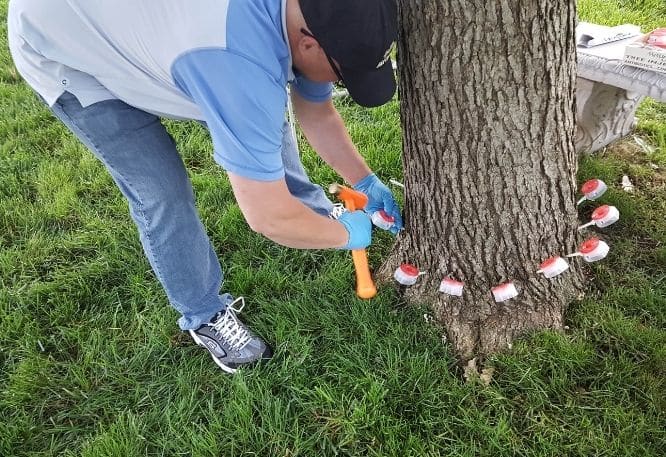 Minimize Tree Damage Risk of Hazardous and Harmful Trees on Your Property
Property owners have a duty to keep their properties safe for visitors and guests. You want your trees to be additions to your property, not hazards. Go Green Tree & Stump Removal in Kansas City uses a variety of risk assessment methods to determine if your trees are safe or likely to fail. Allow the tree damage risk experts to identify threats to decrease an avoidable incident or injury
Our team is certified by the International Society of Arboriculture (ISA) and are members of the Tree Care Industry Association (TCIA) and Certified Treecare Safety Professional (CTSP) program. Contact us today to schedule your tree risk assessment.
FAQs
My tree is leaning. What should I do?
Just because a tree is leaning doesn't necessarily mean that it's at risk of falling down. You need the knowledge and skills of a trained professional arborist to help you understand whether your trees are safe or not. You don't want to remove every tree on your property because trees are beneficial to your environment, property values, and to your life happiness. But you do want to remove hazardous trees or engage in recommended mitigation options.
How do I know if my tree is at risk of dying or becoming dangerous?
An at-risk tree could be saved when you have tree care professionals around to help. A tree risk assessment determines the likelihood of failure of your trees. Our evaluations and recommendations help you make informed decisions about whether or not to keep certain trees on your property.
Our tree risk management team will look at:
Previous history of the tree, including any branch failures, pests, or other conditional factors
The overall health of the tree, canopy density, leaf coloring, deadwood, pruning wounds and healing, and bark condition
The species profile, as some trees are known for being shallow-rooted or prone to disease or pest infestation
Proximity of the tree to people or property
Mitigation options, such as fertilization and tree trimming/tree pruning
Concerns of the tree owners
What signs of possible defects in trees should I be looking out for?
Our professional tree risk assessment have a variety of things to look for in our tree risk assessment including:
Dead branches
Damaged limbs
Root loss
Asymmetric shapes
Separation in soil
Tapered branches