When you have a tree removed, the arborist may ask whether you want stump removal or stump grinding at the same time. Stump removal in Independence, MO is key to keeping your yard healthy and safe throughout the years – plus it just makes your yard look better.
Stumps can be unsightly and prevent you from landscaping your yard properly. At Go Green Tree & Landscape, we recommend having your tree stump removed as soon as possible, give us a call today to set up an appointment. Our licensed and insured team is prepared to help you with stumps large and small.
Request Your Free Estimate
Fill out the form below to request a free quote from Go Green on your Stump Grinding needs in the Independence, MO area.
Why Should I Remove My Tree Stump?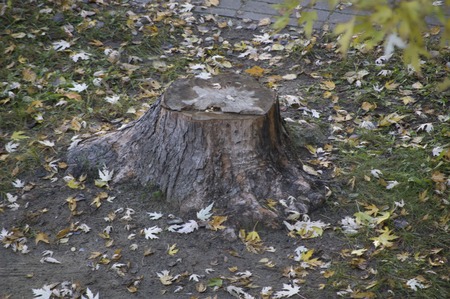 If your tree is gone, the tree stump truly serves no purpose for you – but it does for other creatures. Termites, ants, bees, mice, and other bugs and rodents have been known to make their homes in old stumps, even if they are dry and dead. They are also breeding grounds for fungi and diseases that can take over your entire yard.
Of course, stumps are also unsightly. They can break up the flow of your yard, especially if it is in a place where you could just have grass. This will increase the value of your property. Even better, removing stumps can make your yard safer – if someone gets hurt tripping over your stump, you may be liable for their injuries.
Stump Grinding Pricing
Just like every tree is different, so is the price to remove the stump. It can depend on whether or our team is also removing your tree, as the price can be bundled into it.
Tree stump grinding and removal prices also depend on the type of stump that you have – stumps from oak trees, maple trees, poplar trees and other hard wood trees are harder to remove than some other tree stumps. We have the equipment to handle it, but it can take more manpower.
Our team can also help you to remove stumps so that you can replant in the exact same location, grinding down shrubs and ornamental tree stumps to the depth required for planting a new root ball.
When you call Go Green Tree & Landscaping in Independence, MO, we will send out one of our team members to give you an estimate for the cost of tree stump grinding and removal.
Contact Go Green Today for Tree Stump Removal
Tree stumps don't disappear overnight. Instead, they take years to decompose and can seriously impact the rest of your home and yard. By removing a stump from your yard, you are being proactive in removing a main source of danger in your yard.
We proudly provide our tree services in Independence, Lee's Summit, Raytown, and Blue Springs, MO. Give us a call today so that we can provide you with a free estimate for stump removal and/or stump grinding, whether you have one stump or many. You can reach us at (816) 520-4864 or fill out the form above.