Tree fertilization in Independence, MO is important to help your tree grow and maintain its beauty. But, did you know that it is possible to over fertilize your tree and actually kill it?
The team at Go Green Tree & Landscape offers tree fertilization throughout Independence, Blue Springs, Raytown, and Lee's Summit to ensure that your tree receives the right amount of nutrients to grow tall and proud. It can be difficult for trees to survive some of the harsh weather conditions they may face and when you add insects and disease to the mix, stress can happen quickly. The team at Go Green Tree & Landscape is dedicated to quickly and safely removing your trees from your yard.
Request Your Free Estimate
Fill out the form below to request a free quote from Go Green on your Tree Fertilization needs in the Independence, MO area.
Our certified arborist will work with you to determine how many nutrients your tree needs and the best way to apply it to your tree. If you are in need of tree fertilization in Independence, MO, call Go Green Tree & Landscape today for a free estimate for service.
Reasons for Tree Fertilization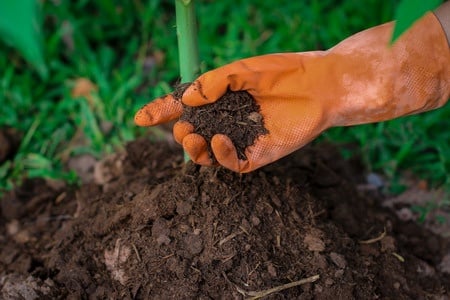 Tree fertilization is an important part of caring for your tree and there are many things that can go wrong and lead to the death of your tree. Professional tree fertilization in Independence, MO can ensure that your tree is healthy and properly fertilized to promote healthy growing.
One of the most important reasons to have tree fertilization services performed is to prevent over fertilization. The team at Go Green Tree & Landscape will add the right amount of fertilization to each tree on your property. It can be easy for homeowners to over fertilize their trees, which leads to stress and death.
Another common reason for fertilization services is to promote growth of your tree. The fertilizer will help provide the tree with the nutrients it needs to grow tall and provide the proper amount of shade over your property.
Lastly, fertilization services will protect the roots of the trees when the tree is not in growth mode. In fact, many trees stop growing in the fall and they rely on the roots to provide the nutrients needed for growth once spring rolls around.
Go Green Tree & Landscape will work with you to identify the needs of your trees and then provide each tree with the proper fertilization to promote a healthy living environment.
Tree Fertilization Pricing
The cost to fertilize your tree will depend on a couple of different factors. The first price factor is how many trees you need to have fertilized. This is important because if you have more than one tree, the amount of fertilizer needed will need to be properly calculated.
The next cost factor will depend on how often your tree has been fertilized. A tree that requires a more extensive fertilization process including deep root fertilization will cost more than one that has been maintained over the years.
Lastly, when figuring out the price of fertilization, your arborist will inspect the trees for any nutrient deficiencies, diseases, and stress. All of these issues will need to be addressed to help the tree grow and you may need to have more than just fertilization performed.
If you are interested in tree fertilization in Independence, MO, contact Go Green Tree & Landscape today for a free estimate.
Stop Over Fertilizing Your Trees with Our Help
Over fertilizing a tree can place unnecessary stress on it and our arborists are here to help you learn how to properly care for your tree. Whether you want to have a new tree planted or you need help caring for the ones you already have, Go Green Tree & Landscape is here to help.
Our team of tree experts are licensed, insured, and certified by ISA, TCIA, and CTSP. We are committed to using green practices and applications on all jobs and our mission is to save as many ash trees as we can.
With over 10 years of experience in the tree industry, we know how to properly take care of your trees. If you are searching for the best tree fertilization in Independence, MO, contact Go Green Tree & Landscape today for a free estimate.